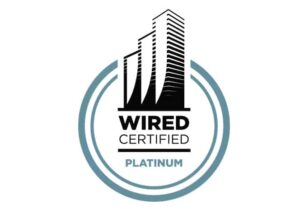 We are delighted to announce that Manchester Goods Yard has recently been awarded a WiredScore Platinum rating.
A ten-storey mixed use building, Manchester Goods Yard is the commercial hub of Enterprise City, at the heart of the new St John's neighbourhood being built by Allied London.
Inspired by the industrial warehouses of Brooklyn, New York, the building will offer a range of flexible workspaces complemented by ground floor retail and leisure outlets. This modern, tech focused building requires excellent connectivity, and CWC have worked closely with the whole design team to ensure we achieved the highest available accreditation from WiredScore. Our role was to ensure the design was compliant with WiredScore standards and met the client and end-user requirements.
The WiredScore certification gives Allied London genuine peace of mind that their telecoms capabilities are cutting edge, reliable and futureproofed.
The building is due to open in September 2021, with Booking.com as one of the key anchor tenants.